Previous
Next
St. Richard's Boat and Car Festival 2015 was a fantastic event and we hoping for a bigger and better event in 2016! The event will start at 5.00pm on Friday 29th April with live music and real ale bar in Vines Park and runs until 5pm on Monday 2nd May. There is plenty on offer throughout the weekend including display of canal boats and classic and vintage cars; markets and stalls; medieval re-enactment and entertainment; children's activities; art exhibition; dog show and duck race. Please take a look to see what is on offer and useful information for visiting the...

Read More

St. Richard's Festival (now renamed St Richard's Boat and Car Festival) started in 2007 and has a grown rapidly through the addition of street markets, new attractions and the Classic and Vintage Car Rally. The event fills the streets in Droitwich Spa town centre and Vines Park and provides visitors with a great day out in the heart of this historic salt town. The festival celebrates the life of St Richard, the Spa's patron saint, who – legend has it – made the town's brine wells flow again in the Middle Ages. It offers attractions to suit all ages ranging from medieval re-enactment and entertainment to classic and vintage cars and boat trips on the Droitwich Canal. The festival also sees a resurrection of the old tradition where the brine pit was decked with greenery and tapestry to celebrate the life of St. Richard. Upwich Brine Pit, the Old Pump in Gurneys Lane and St. Richard's Statue and will be decorated with floral displays by local florists. This year's event will be joined again by a Boating Festival in Vines Park meaning it will take place over 3 days offering even more attractions. Highlights of the 2015 Festival include: Medieval Re-enactment and Entertainment Vines Park Visitors will be taken back to the 14th Century with "The Plantagenets" who will recreate pageantry, excitement of medieval combat. Watch fully armoured knights as they display chivalry and courage. Medieval musicians will demonstrate the hurdy gurdy and shcawmn. Lots of opportunity for you to join in with dancing, squire, training and brass rubbing. Saturday 11am – 4pm. Classic and Vintage Cars Town Centre Saturday and Sunday 10am – 4pm. Boating Festival Droitwich Canal, Vines Park Come and see the large display of boats moored up for the weekend on the canal in Vines Park. Amongst the boats on display will be historic working boats. There will also be a display of static engines. Friday – Monday. The Pamela May will be operating trips from Vines Park along the canal throughout the weekend. Saturday – Monday (10am – pm). Visit the Model Boats display and watch demonstrations on the canal Monday Markets Town Centre Visitors can enjoy a 'Taste of Italy' at the Italian Market in Saltbarrow Market. There will be plenty to tempt the taste buds – cheeses, cured meats, olives, olive oils, pasta, breads, cakes, sweets. There will be plenty of opportunity to stock up on goodies and...

Read More

St. Richard's Festival (now renamed St Richard's Boat and Car Festival) started in 2007 and has a grown rapidly through the addition of street markets, new attractions and the Classic and Vintage Car Rally. The event fills the streets in Droitwich Spa town centre and Vines Park and provides visitors with a great day out in the heart of this historic salt town. The festival celebrates the life of St Richard, the Spa's patron saint, who – legend has it – made the town's brine wells flow again in the Middle Ages. It offers attractions to suit all ages ranging from medieval re-enactment and entertainment to classic and vintage cars and boat trips on the Droitwich Canal. The festival also sees a resurrection of the old tradition where the brine pit was decked with greenery and tapestry to celebrate the life of St. Richard. Upwich Brine Pit, the Old Pump in Gurneys Lane and St. Richard's Statue and will be decorated with floral displays by local florists. This year's event will be joined again by a Boating Festival in Vines Park meaning it will take place over 3 days offering even more attractions. Highlights of the 2016 Festival included: Medieval Re-enactment and Entertainment Vines Park Visitors will be taken back to the 14th Century with "The Plantagenets" who will recreate pageantry, excitement of medieval combat. Watch fully armoured knights as they display chivalry and courage. Medieval musicians will demonstrate the hurdy gurdy and shcawmn. Lots of opportunity for you to join in with dancing, squire, training and brass rubbing. Saturday 11am – 4pm. Classic and Vintage Cars Town Centre Saturday and Sunday 10am – 4pm. Boating Festival Droitwich Canal, Vines Park Come and see the large display of boats moored up for the weekend on the canal in Vines Park. Amongst the boats on display will be historic working boats. There will also be a display of static engines. Friday – Monday. The Pamela May will be operating trips from Vines Park along the canal throughout the weekend. Saturday – Monday (10.30am – 4pm). Visit the Model Boats display and watch demonstrations on the canal Monday Markets Town Centre Visitors can enjoy a 'Taste of Italy' at the Italian Market in Saltbarrow Market. There will be plenty to tempt the taste buds – cheeses, cured meats, olives, olive oils, pasta, breads, cakes, sweets. There will be plenty of opportunity to stock up on goodies and...

Read More

The event programme for 2016 was: Friday 29 April Vines Park Time Marquee 6.00pm Real Ale Bar Opens. Until 11pm 7.00pm Marina Del Ray. Until 9.00pm 9.00pm Shady Band. Until 11pm Saturday 30 April Vines Park Time Main Marquee Marquee 2 Park Area Canal 10.00am Craft Stalls. Until 4pm Event Opens. Until 4pm 10.30am Pamela May Boat Trips. Until 4.00pm 11.00am Squire Training. Until 12.00pm Blessing of Upwych Pit. Until 11.30am 11.40am Mural Unveiling (Netherwich Basin). 12.00pm Real Ale Bar Opens. Until 11pm Mal & Him. Until 1:00pm Medieval Musicians. Until 12.30pm 12.30pm Dressing the Knight. Until 1pm 1.00pm Kevin O'Reagan. Until 2.30pm Squire Training. Until 2pm 2.00pm Courtly Dance. Until 2.45pm 2.30pm BL3ND. Until 3.15pm 2.45pm Medieval Foot Combat. Until 3.30pm 3.15pm Wilfs Carnival Band Until 4pm 3.30pm Show & Tell. Until 4pm 4:00pm Droitwich Community Choir Until 4.45pm 5.00pm Dirty Brass. Until 7pm 7.00pm Definately Brit Pop. Until 9pm 9.00pm Reflections. Until 11pm Town Centre Time High Street Saltbarrow Market St. Andrews Street Victoria Square St. Andrews Square Shopping Centre 9.00am Italian Market. Until 4pm Farmers/Craft/Vintage Markets. Until 4pm 10.00am Classic and Vintage Cars. Until 4pm Classic and Vintage Cars. Until 4pm Art Exhibition – St. Andrews Church. Until 4pm Classic and Vintage Cars. Until 4pm Starbuck Theatre Company. Until 10.45am 10.15am St. Richard's Hospice Choir. Until 10.45am 10.45am St. Richard's Parade to Vines Park Morris Dancing. Until 11.15am 11.00am Bygonz. Until 12.30pm 11.15am Stilt Walking. Until 11.45am 11.45am St. Richard's Hospice Choir. Until 12.15pm 12.00pm Morris Dancing. Until 12.30pm 12.30pm Wilfs Carnival Band. Until 1.15pm Lauren Nicol. Until 1.00pm 1.00pm Juggling Show. Until 1.30pm 1.30pm Bygonz. Until 3.00pm Puppet Show. Until 2.00pm 2.00pm Wilfs Carnival Band. Until 2.45pm 2.45pm Puppet Show. Until 3.15pm 3.00pm Lauren Nicol Stilt Walking. Until 4.00pm Sunday 1 April Vines Park Time Main Marquee Marquee 2 Park Area Canal 10.00am WW1 & 2 Travelling Museum. Until 4pm Event Opens. Activity Zone – stalls, judo, golf, fire hose challenge. Until 4pm 10.30am Community Church Service – Salvation Army Choir and Band. Until 11.30am Pamela May Boat Trips. Until 4pm 11.00am Community Church Service – Salvation Army Choir and Band. Until 12.00pm Canoeing. Until 4.00pm 12.00pm Real Ale Bar Opens Until 11pm 12.30pm 3 Chords. Until 1pm 1.00pm Rock Choir. Until 1.30pm 1.35pm Westacre School Choir. Until 2.00pm 2.00pm Worcester/Droitwich Ukulele Band. Until 2.45pm 2.15pm Worcester Ukele Band. Until 3pm 3.00pm Blackwell Concert Band. Until 5pm 5.00pm Aarvark Stew. Until 7pm...

Read More

Below is a list of the festival booking forms for Classic Car Ralley and Boat bookings. Please select the form you require: Classic Car Rally Booking Form PDF Boat Booking Form PDF ...

Read More
Stallholders and Exhibitors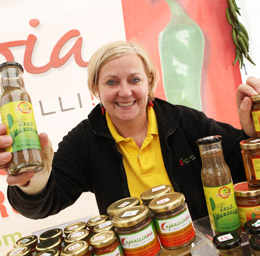 The Festival is a great way to sell direct to customers, raise funds and promote your business or community group.
Please contact Janet Yates on Tel: 01386 565355
or email janet.yates@wychavon.gov.uk if you are interested in booking a stall.
Classic and Vintage Cars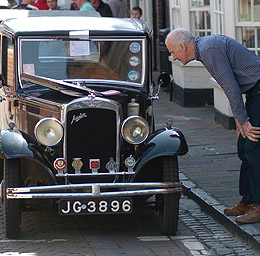 The Cars are always popular and a big attraction for the event. If you own a classic or vintage car why not come and join the Rally which takes place on the Saturday and Sunday. Entry fee is £5 for the weekend and money raised will be donated to Midland Air Ambulance.
Bookings are being taken for 2016 – click on the link below for further information
Boats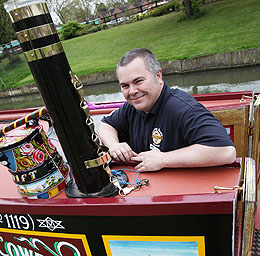 St. Richard's Boat and Car Festival is a great weekend for boat owners. Boats are moored either at Netherwich Basin or alongside the path in Vines Park. There is plenty do during the weekend and well as opportunity to explore this historic town and immediate area. The festival is a great way to meet other boaters and catch up with old friends. Trade boats also welcome. Bookings are being taken for 2016 – click on the link below for further information
Click for more details